Yes, it has been a long time. I have been very busy as has Stiggy. Now that he is finally back home we are both keeping very busy with a number of things, including...dun dun dun...some big news we have to share.
Ahem.
Due to grace us with his presence JUST the day before St. Valentine's Day next year, is the lovely mini-us. That's right, Stiggy and I are expecting our first baby in the new year! We have obviously known for a while but chose to keep quiet except to a couple very close friends until now, for personal reasons. But it's time to let it out!
Just had a 19-week Level II Ultrasound today and the results are in...baby is healthy and strong as can be! We did not know he would be a "he" until today either and he ALMOST jipped us out of finding out too! Feisty little boy just like his daddy! They were more generous than last time in giving us pics from the scans as we took home 6 photos of our darling dear. We do have a name picked out - which was very easy because it was the only boys' name either of us liked! That was helpful!
I'm kind of hoping to hold out until Valentine's Day though a friend says we HAVE to name him "Romeo Valentine" if that happens.
Yeahhhhh....we'll get thinking on that one. ;)
We are so excited (and typically terrified as new parents-to-be!) for this huge change and are prepared to take it head-on with this little bundle of joy. Woo hoo!
So, here's some photos, ya hurrrrr.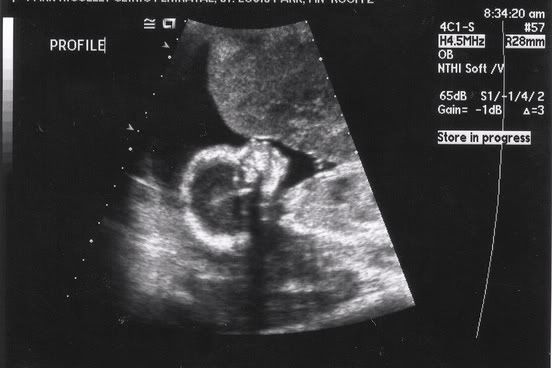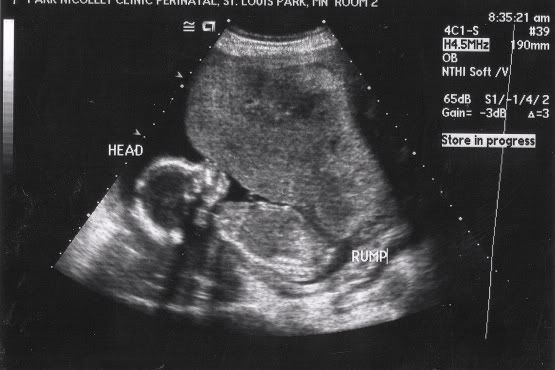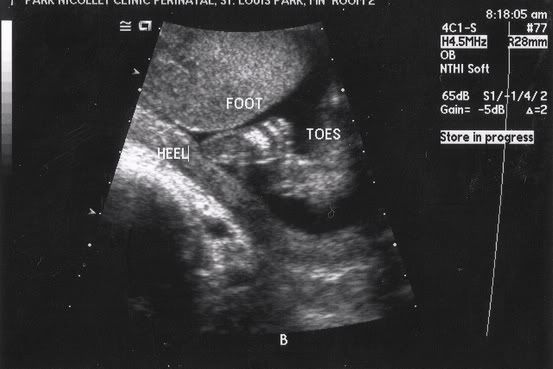 Aren't you SO glad you got to see my innards? =P He was a busy little boy and had his hands (and feet) straight up by his head. Interesting position but I guess it's comfortable, else he just got stuck. Haha. We got to see his little heart (which is very healthy) and his little stomach and little kidneys and little brain and little bones...he will certainly be one cute baby upon his arrival and we can see he's practicing the cuteness already! Just like his daddy...now here's hoping he gets Daddy's eyes and hair to boot...hehe.
Anyway just wanted to pass on the good news!!
<3 / Va-Va
P.S. Buyusstuffweareregisteredattargetandbabiesrus!